le'LOVE
is a new blog but is gaining momentum. Since it's launch in late November of 2011 it has seen close to 8000 visitors, is building followers across Google Friend Connect,
Hellocotton
and
Bloglovin'
and has seen a steady stream of comments.
I believe
in supporting small business and fellow bloggers; all profits from sponsorship go into sponsoring other blogs and making le'lOVE better.
If you
would like to sponsor my site through a side bar advertisement I have the following options.
Static images placed above the fold in two sizes: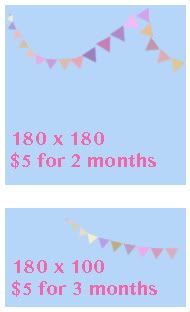 I would also be very into the idea of doing ad swaps with fellow bloggers so drop me a line with your blog and a suitable image and I will reply with my badge!
These are introductory prices and are subject to change. Goods may be exchanged for sponsorship space on a strictly case by case basis. I reserve the right to adjust the colours in all images in consultation with sponsors if they do not suit the look of le'LOVE.
All opinions given on this blog are my own and I am in no way paid to say anything about a product. If I love it, I will say it.
Please email me at leloveblog5[at]gmail.com for further information and to secure a position.