I am a blogger on a mission. I am downright determined to stop buying makeup on the fly just because I need it and it is cheap. I want products that suit me, my skin type and my lifestyle. I used to just assume that a product would work for me, buy it, then be disappointed. I probably just got down on myself, thinking that of course it didn't make my skin look amazing because my skin is awful and oily and has pores the size of the grand canyon.
I am done with this. There
must
be products out there that will correct some of my skin issues and give me some daily confidence, so my search has begun. I am starting out with low to mid range products as if I can manage to find products that are perfect for my skin and my wallet then that is fab! I will not stop until I find what I am looking for, however, and if that takes me to expensive makeup counters then so be it (I should get a job then, shouldn't I?)
Anyway, makeup overhaul started when I ordered some makeup goodies from ASOS that hopefully arrive this week! In the meantime I raided my local pharmacy, which doesn't stock a whole lot of makeup, but they do carry the brand
Natio
which I love!
I picked up a Brow Kit and a Colour Complexion Corrector. My Mum also grabbed their Pure Mineral Concealer Pen and their Mineral Pressed Powder compact.
What I really like about this company is that they offer makeup made from natural plant based ingredients. I don't want lovely looking skin if it means using yucky toxins, so Natio's philosophy sits well with me.
I had only ever used their moisturisers before- they make a hand cream that is heaven for the skin, so had no idea what their makeup products would be like.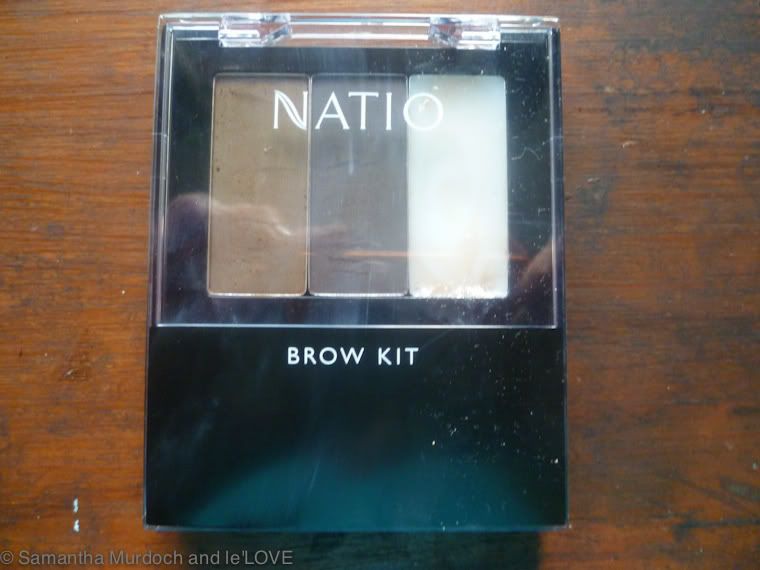 I am loving loving loving this nifty brow kit! I was always so weary of these kits as I thought brow powders might be harder to use, or less precise, than brow pencils. I was glad to be proved wrong. The kit comes with a mid brown and dark brown matt powder (which would also work well for natural eye contouring), a tiny pair of tweezers (so darn cute!), a brown wand and an angled application brush. On top of this, and what makes this kit so great, you get clear brow wax.
The powders are really pigmented but go on softly. I tend to put most of the colour towards the centre and outside end of my brow and just add slight soft filling in towards the middle of my face, and these colours work great for that. I have been blending both powders for everyday use, though the darker would be excellent for a strong dramatic brow. The wax goes on last; it isn't too thick so doesn't glue the hair to your skin, but rather smooths the brow shape and adds some lovely natural gloss. See the results for yourself in the before and after below:


The Complextion Corrector comes in a small 20ml tube and according to Natio it is a "

Lightweight, silky-smooth correction cream to help create even skin tone.

Disguises redness and corrects uneven pigmentation." I have to say that it pretty much lives up to that description. I don't have rosatia or any large patches of redness, but the skin around the creases of my nose, the high points of my cheeks and my chin can be very red. I had been wanting to get one of these colour correcting products for a while, and had my eye on a Jemma Kid pallet (which I still may try as it has other shades as well).
The product goes on easily enough with a finger or concealer brush, though you do need to work it quite fast as it does dry quickly. The edges of this corrector do need to be blended out a lot to a soft edge otherwise the effect is unnatural. I have been using this followed by my regular Garner concealer roll on. It really does hide those red tones and the ever so slight light reflective properties brighten at the same time. A bonus with this, and something Natio doesn't mention, is that it reduces the appearance of pores as well. A little goes a long way with this so this small tube for around $13AUD will last a long time.
I am awaiting more lovely makeup deliveries in the next couple of weeks so expect more reviews.
Also, if you too have oily skin and have products that work really well for a long lasting shine free look please share in the comments!
Samantha Alice xx
P.s I am feeling much much better after a horrible week of sickness!