Did you
indulge a little over the holidays? I sure did. I usually don't eat any sugar and I crammed quite a bit of chocolate into three days over Christmas. All that excess has left me feeling a little sluggish and wanting a bit of a cleanse. In comes my go to, super healthy, chicken and vegetable soup. You'll love it, I promise.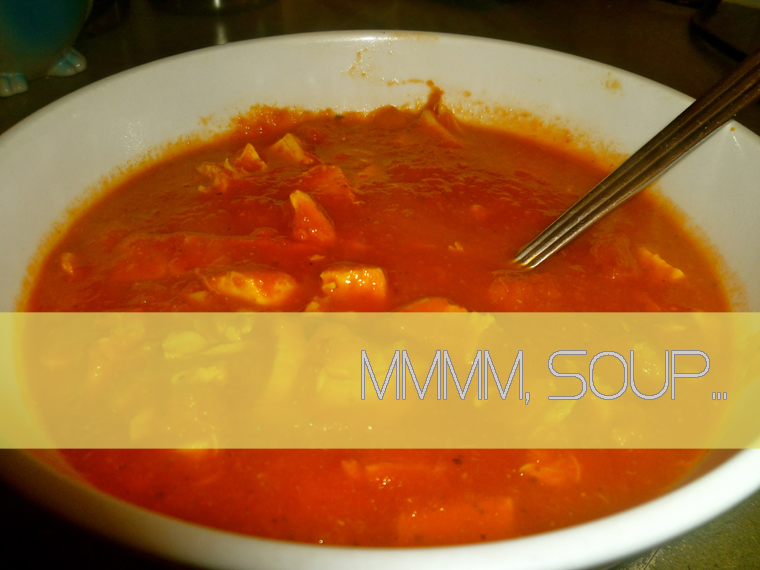 You will need:
1 onion
3 largish cloves of garlic
3 cans of tomatoes
2 carrots
1 floret of broccoli
Quarter of a largish pumpkin
Basil leaves (dried or fresh)
Chilli flakes to suit your taste
Tumeric powder
Salt
Water
Poached or steamed chicken breast
Dice onions and garlic; saute in a large pot with chilli flakes and basil. Cut veggies up into large chunks and add to pot; stir until coated in onion/garlic/chilli/basil mixture. Add canned tomatoes plus 4 cans of water. Stir in a tablespoon of turmeric powder and a teaspoon or so of salt; you can add pepper also but I find you don't need it with the chilli.
This will need to simmer on a low heat for around about an hour and a half. If it looks too thick, add more water. Once all veggies are soft and mush able you can take a wiz stick or a blender and puree the soup.
Serve with diced chicken breast for that hit of lean protein, and if you are in the mood, a slice of thick crusty sourdough bread.
This soup is a great kick start for a sluggish body; the chilli is good for your metabolism and turmeric is excellent for inflammation and heart and brain health. I make enormous batches and freeze it so I always have some on hand for those days I just can't be bothered cooking, which is like, everyday. Also, you can add any other veggies you like if these don't suit.

Adieu to you and you and you x