So Spring is definitely here in Australia and the weather is really starting to warm up. I am basically pretending it is Summer already as I will be missing out on a real Summer (not that I mind missing 40C days and insane humidity!). Lucky me, I get two Winters this year, albeit one far more extreme than the other.
I thought rather than doing a month by month favourites I'd fill you in on a few things I was hooked on over winter, though they are pretty much still in high rotation!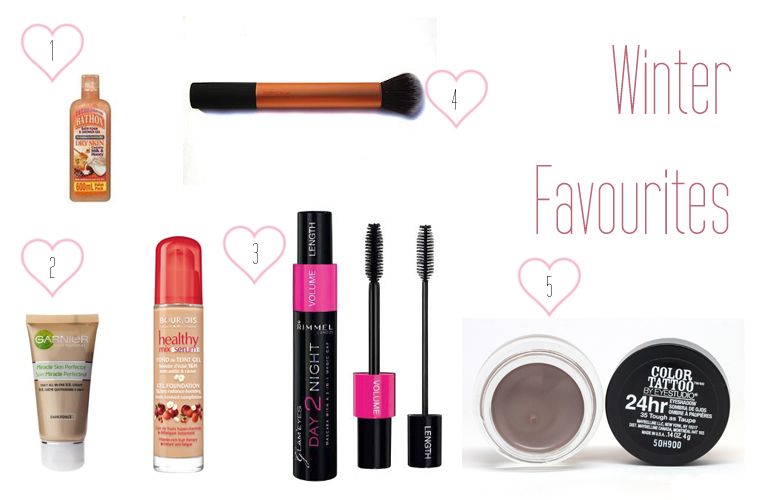 My favourite body wash was Bathox Dry Skin Milk and Honey body wash. I cannot possibly convey how amazing this smells. Winter was a month in which I basically stopped eating sweets, and this became my sort of daily sugar fix. It smells like rich and yummy caramel sauce and leaves the skin smelling oh so nice. Plus it is moisturising and managed to stop my legs turning into scaly ickyness over winter.
For foundation I have been flicking between my long term favourites, Bourjois Healthy Mix Serum (read my review here) and Garnier BB Cream for those days when I want a light coverage that just evens out my skin tone.
Pretty sure I found my holy grail mascara. By complete accident I found Rimmel's Day2Night mascara and I haven't used anything else since. I hate, like really hate, volumising mascaras. I think they make my lashes look clumpy and awful, so I tend to veer towards lengthening products, but even then I am not always that happy with the result. This is one of those gimmick products that claims to do both (it has two lids that when removed leave a different amount of product on the brush) but I only ever use the lengthening part. It has the perfect amount of product on the brush, leaves my lashes separated and long and holds a curl really well. I am seriously in love with this!
I didn't realise what a difference makeup brushes could make until I got my hands on some amazing ones. Obviously the Real Techniques brushes are not new, but they are relatively new to me! They were recently launched in Australia but the price was so ridiculous I ended up getting them from iHerb (highly recommend this store!) I got the Core Collection which of course has the much coveted Buffing Brush but the other brushes have been amazing also. Using my two favourite foundations with the Buffing Brush makes my skin look amazing and pretty much halves the time I spend on my makeup.
With my oily skin a constant problem, I do tend to lose any powder eye shadows pretty fast, so I was excited to try the Maybelline Colour Tattoo cream eyeshadows to see if they would last longer. These shadows are a great consistency, though a little goes a long way and you need to blend fast before they dry. When they do dry though, they do not budge until I take my makeup off. I got the colour tough as taupe because I thought it would be a good matte base shade and I love the colour. It errs towards purple unlike some brownish toned taupes which I like. It is also one of the only matte colours they have released. I want to try the others but can't justify it right now!
xx Samantha Alice