Those who get to know me figure out pretty fast that I am not one of those very patriotic people; I love my country and think it is awesome that I get to live here and be happy and have loads of sunshine. I just don't gab on about it.
I am, however, crazily passionate about Australian designers; I happen to think that we have some of the most amazing, brilliant, outstanding and down right talented designers in the world. We bring a different aesthetic to the table; whether it be in fashion, interiors or graphic design. It really is true that, on a generalised level anyway, us Aussies are more relaxed. This tends to show through in our creativity.
I could talk forever about how much I love Australian designers and how important I think supporting them is, all day. But I won't bore you with my words. Instead I'll show you. Introducing one such amazing Australian design brand: Byrd Holland Designs, a Sydney based business run by Maria Gallifuoco. I chatted with Maria about her brand and what makes her tick.
Tell me about yourself? How did you come to owning an online vintage store?
It was a gradual process. I think I was enticed by the idea of being able to run and own a business around my studies. But it took a long time of meticulous planning and sleepless nights that still continue to this day
Tell me about Byrd Holland Designs. What do you aim for? What will be your next direction for the store?
Well- you're actually interviewing me at the brink of a HUGE makeover. Byrd Holland is in the process of moving e-commerce platforms and becoming bigger then I could ever have imagined. We will not only stock vintage but strange and interesting clothing, jewellery and accessories from up and coming designers.

The focus will shift to building a community site that is approachable and highly collaborative with the customers. It's set to launch at the beginning of March this year (I'm so excited!)
What is your personal style aesthetic? Where do you like to shop?
I've been asked this in quite a few interviews and I still don't really know how to define it. I tend to dress for my body type. I'm quite 'hourglass-y' (is that even a word?) so my style usually enhances that. There's a lot of high fashion clothing that is just meant to hang off an uber thin woman's body. I'm not sure I like that as much as seeing a gorgeous woman look like a woman.
What does great design mean to you in your life?
Oh design has become my life. I put my soul into what I do and I want my life to be my greatest creative endeavor . Great design, in a garment, object, or even personality, makes life beautiful and kind of miraculous. I realize that I'm just a great sucker for aesthetics in the deepest way.
If we stepped out in your neighbourhood what kind of style might we see?
I live in Bondi and the whole nonchalant 'I just chucked this on but I still look insanely good' look is abundant. Beach hair, great tans, oversized singlet's and excess jewellery are the keys. Sort of Boho meets celebrity on holiday.
Do you love living in Sydney? What makes it such a great place to live?
I have lived in so many places, and Sydney is by far the most amazing place. My heart is here. It's so great to have the city and three beaches a maximum 15 minutes away. As far as any other city in Australia, I prefer the sometimes insane business of Sydney. I love the rush.
What kinds of things will we see in your shop at the moment?
At the moment in Byrd Holland you'll see a lot of vintage pieces, including some amazing home décor products. We're also having a special discount being offered exclusively to Le'Love readers, simply type in LELOVE at checkout and receive an amazing 20% of any piece!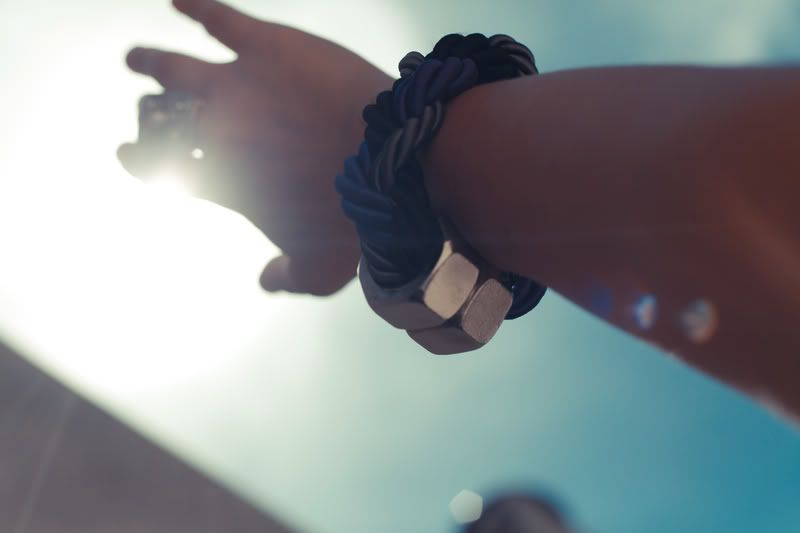 Where do you source your vintage pieces?
I go everywhere to source pieces. Honestly. Sometimes customers have an idea of what they're after and I drive around Australia in search of it! The best finds are usually in random thrift stores but sometimes there's some nice vintage stores with great price
What advice would you give to people thinking about owning their own online fashion business?
Research, research, research. Know what you want and how you'll make a difference to a saturated market, and don't give up! Have faith in a dream and do everything in your power to make it come true.
Isn't she kind of amazing? The Byrd Holland store has about a billion things that I want for my own, in particular some red fox stud earrings that I simply must have. Maria's style is so elegant and effortless and is the epitome of chic eastern suburbs Sydney. I lived one beach over from Bondi in a lovely little place called Bronte and I can say that I have never been anywhere quite like these famous beaches. The Sydney beaches are incredible; I miss living there with the coastal breeze and inspirational style.
Do take a moment (or an hour!) to visit the Bird Holland Designs shop, Blog and Maria's personal Style blog Fashion Fazer for some inspiring photography and great style. I promise you won't be disappointed.
Also don't forget to take advantage of the discount offered to readers of le'LOVE; just enter LELOVE at the checkout for a very generous 20% off all items; hands off the fox earrings though!
You can keep up to date with all Maria's projects via twitter.
Keep stylish lovers x
All images courtesy Maria
Gallifuoco, Byrd Holland Designs and Fashion Fazer.